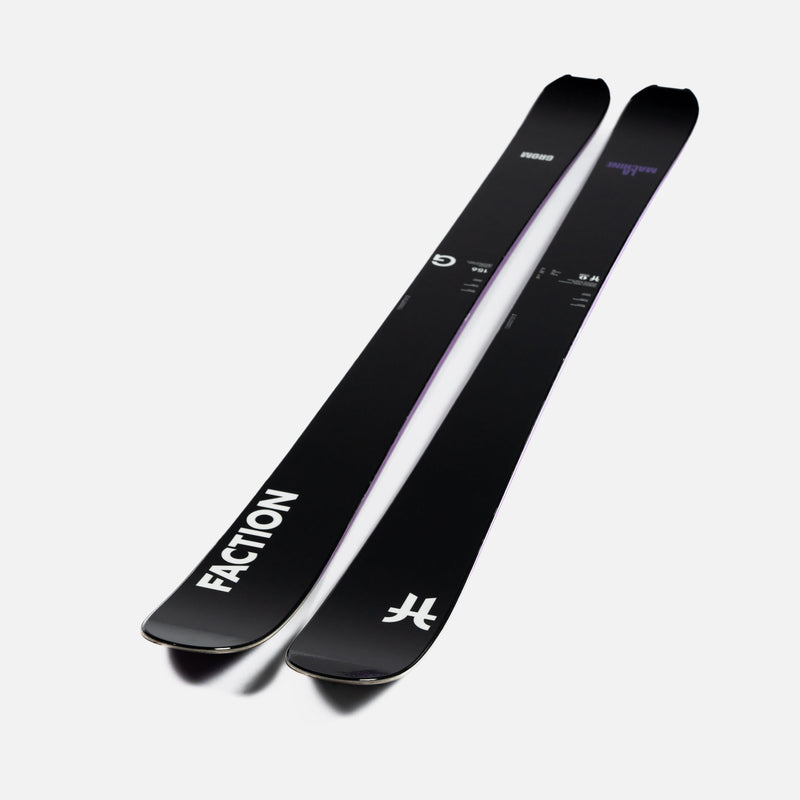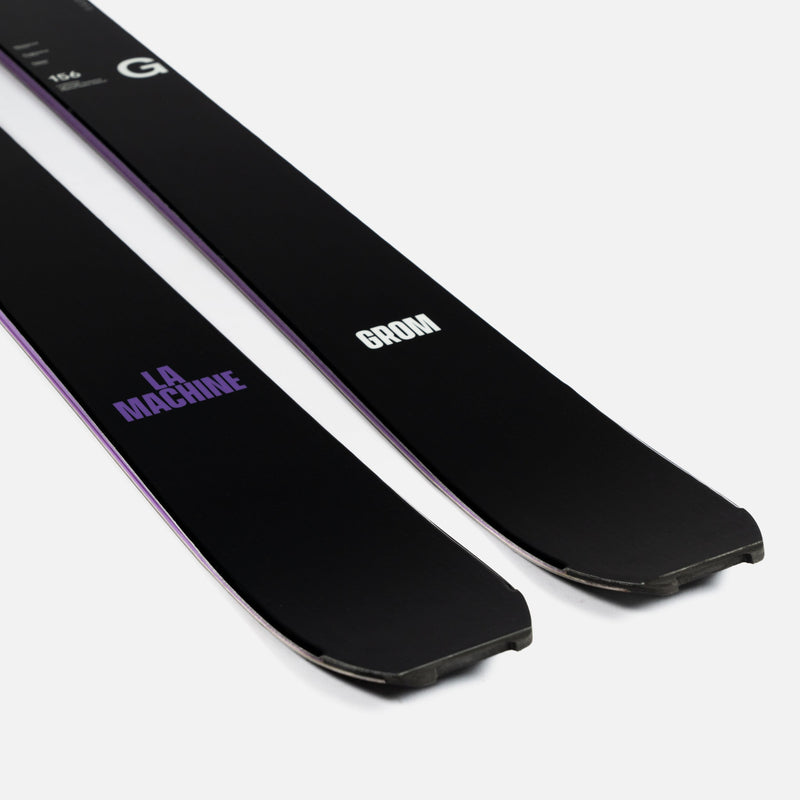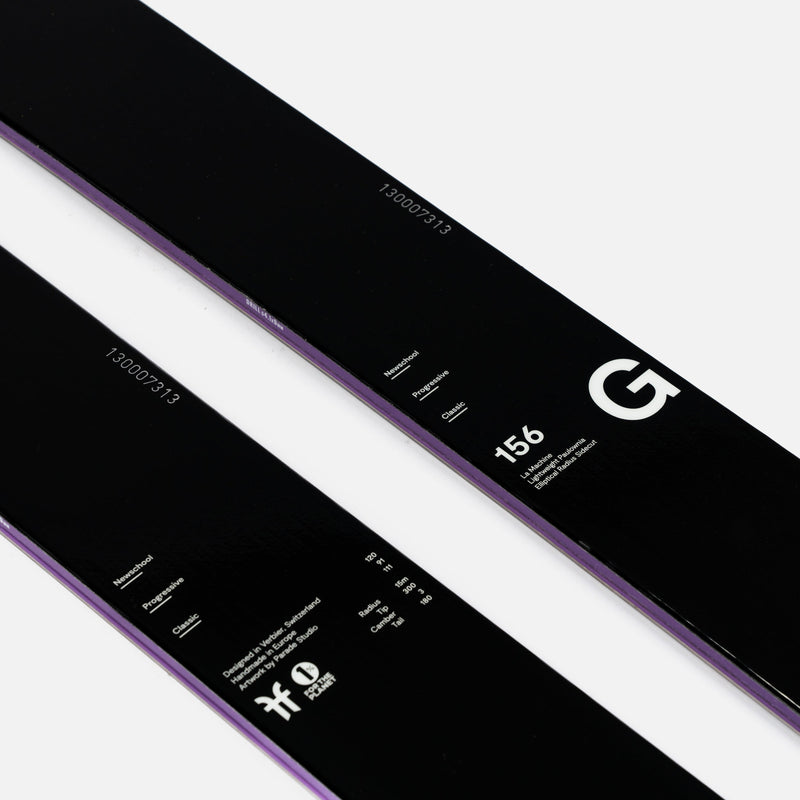 personality
ability
Intermediate, advanced and expert
flex
Ski flex refers to the stiffness of a ski, and it plays a crucial role in how the ski performs. A stiffer ski will provide better stability at high speeds and on hard-packed snow, while a softer ski will be more forgiving and easier to turn, especially in powder or variable conditions.
5
5 out of 10
edge hold
Edge hold, refers to a ski's ability to maintain a strong grip on firm or icy snow while making turns. A high edge hold means the ski will bite into the snow effectively, allowing the skier to maintain control and carve precise turns. A lower edge hold will be favourable for those who prioritize playfulness, easy turns, or versatility in varied conditions. It all comes down to the skier's style and preferences.
8
out of 10
float
Float, refers to a ski's ability to stay on top of deep snow. Skis with high float will keep you near the surface of the snow, allowing you to glide smoothly and effortlessly in powder conditions and experience that wonderful sensation of floating on air.
9
out of 10
flair
It's that special sauce that makes people seem effortlessly cool or skilled at something. You know, the kind of style, talent, or flashy action that makes you say, "Wow, they've got it!" It's like the sprinkles on the cupcake of life – it adds that extra dash of pizzazz, intentionally or not.
8
out of 10
product features
ski shape
Extended tip & tail rocker
We employ Extended Rocker, a reverse camber shape in the tip and tails, which along with waist width, is the most important element in providing float in fresh snow. Extended rocker also makes pivoting and turn initiation easier and means you have less chance of catching an edge.
スキーサイズガイド
適切なスキーの長さを選ぶには、さまざまな要素が絡み合っている。ベーシックなレベルでは、身長、体重、能力から、どの長さのスキーを選ぶべきかがわかるはずだ。
目安としては、鼻から眉の高さあたりから始める。始めたばかり、あるいは中級者レベルなら、スキーの長さを少し短くすることをお勧めする。上級者であれば、スキーの長さを自分の身長に近づけるか、それ以上にすることをお勧めする。また、平均体重より重い場合は、スキーの長さをプラスしてみるのもよいだろう。
幅の狭いスキーを選び、ほとんどの時間を硬い雪上で過ごすなら、レンジの短めの方を選ほう。
オフピステのコンディションで速くアグレッシブに滑るなら、レンジの長めのほうを選ぼう。
この2つをミックスするなら、その中間のスキーを選ぶといいだろう。
このサイズガイドを読んでもわからない場合は、問い合わせページでお問い合わせください。
| 身長 (cm) | 身長(フィートインチ) | スキーの長さの目安 |
| --- | --- | --- |
| 130 | 4'3 | 115-125 |
| 135 | 4'4 | 120-135 |
| 140 | 4'6 | 125-140 |
| 145 | 4'7 | 130-145 |
| 150 | 4'9 | 135-150 |
| 155 | 5'1 | 140-155 |
| 160 | 5'2 | 145-165 |
| 165 | 5'4 | 150-175 |
| 170 | 5'6 | 155-180 |
| 175 | 5'7 | 160-185 |
| 180 | 5'9 | 170-188 |
| 185 | 6'1 | 175-195 |
| 190 | 6'2 | 180-204 |
| 200 | 6'6 | 185-204 |
次のような場合は、私たちの推奨レンジの低いほうをお選びください:
初級者、または中級者で、早く上達したいと考えている人。
より速く、より短いターンをより簡単にしたい。
あなたは冷静で、スピードを一定に保つのが好きだ。
背が高いから、どのスキー板も長さが足りないんだ。
次のような場合は、私たちの推奨レンジの高いほうをお選びください:
スキーのアクセルを全開にする
身長に対して体重が平均より重い
スキーのほとんどをオフピステでするつもりである。
リフトの列でFWTアスリートのように見られたい
sizing
| | | | | |
| --- | --- | --- | --- | --- |
| ski size | 129 | 138 | 147 | 156 |
| tip width (mm) | 114 | 114 | 117 | 120 |
| waist width (mm) | 85 | 85 | 88 | 91 |
| tail width (mm) | 105 | 105 | 108 | 111 |
| radius (m) | 9 | 11 | 13 | 15 |
| weight per ski (g) | 1150 | 1200 | 1250 | 1300 |
description
La Machine Gromは、ツアーリングやオフピステパウダーのための エントリーモデルだ。この超軽量カーボンスキーは、トレイルヘッドから帰り道まで、スキーヤーの足をフレッシュに保ち、数え切れない笑顔と喜びの声を届けるだろう。このウルトラロッカーシェイプはライディング中の引っかかりをなくし、快適な操作性を提供し、より多くの時間を思い出深いものとする。再生可能エネルギーを100%使用し、高い品質と耐久性を誇るオーストリア製の構造を採用している。
次のような人はこのスキーが気に入るでしょう:
楽にターンを開始できるよう、長めのティップとテールを求めている
長期の遠征には、超軽量のフリーツーリング・スキーが必要
バックカントリーで変わりやすい雪のコンディションを簡単にサーフできる浮力のあるスキーが必要
ダウンヒルでのトーション強度を確保するため、カーボンを搭載した高級スキーを求めている
配送と返品
15,000円以上の場合は送料無料で、30日間の返品保証も付いています。
配送に関する詳細については、配送料と関税のページ をご覧ください。
返品に関する詳細については、返品ページ をご覧ください。